With the plethora of content marketing tools available today, it becomes easy for marketers to be overwhelmed.
This is why I've decided to put together a list of the necessary content marketing tools that can help you produce the best content possible.
Some of them are probably already on your radar (I hope so), and others you may not know yet.
But with all of these tools, one truth remains unchanged: content marketing is a competitive space and it's important to be well-equipped.
When it comes to content marketing, the focus is always on finding the best tool that will give you an edge in your business.
So, let's get started!
15+ Content Marketing Tools Reviewed for 2022
This list is broken down into a few categories that represent the a-z process of content marketing, i.e, content curation, content writing, content promotion, etc.
These will be listed out below but first, let's take a look at what each of these tools can do to benefit your business.
Platform supported: Web | Plans: Free
One of the main content marketing tools you will need is a content management system or CMS.
This will be a place where you will store all of your content files, schedule posts, and publish content to your website.
WordPress is the most popular CMS with many available plugins to help you do all those tasks pertaining to content production and all other customizations.
If you've never used WordPress before, you might feel a bit intimated by the interface but it's the most user-friendly and easy-to-use CMS platform ever.
You just have to explore the environment and start customizing it to your liking.
And of course, you will need a blog theme to be able to create your own website with your personal touch and of course a blog section that will feature all your content.
WordPress has an arsenal of plugins for almost every task and feature you might think of.
For your info, there are actually 60 million blogs at the time I'm writing this.
And by the time you read this, the number will definitely increase!
Platform supported: Web | Plans: (30-Day Trial then Paid)
A great way to uncover what type of content is working best in your industry is to use a content marketing tool such as BuzzSumo.
Buzzsumo is a social media analytics and content inspiration and curation tool for marketers.
With this tool, you can gauge the type of content that resonates best with your audience and better understand what content trends are currently popular based on the number of social shares, tweets, and backlinks that content receives.
This is an extremely valuable tool for any marketer to have.
Platform supported: Web & Mobile App Plans: Free
As a content marketer, it's important to track and measure your content marketing efforts.
No matter what tool you might choose, chances are you will want to track conversions, leads, and traffic sources.
Google Analytics is the most popular and trusted online analytics platform for this purpose because you're getting data from Google itself.
And if you run a business online it's imperative that you use a tool like this.
In Google Analytics, you'll understand who's your demographics, what pages are they visiting, how much time they spend per session/visit, and lots of other tracking tasks such as conversions from your Google Ads campaigns.
Best Alternatives (Click To Learn More)
Platform supported: Web, Android, iPhone & iPad | Plans: 5 Free Projects then Paid
Video marketing is continuously taking ground in the digital marketing landscape and more content marketers are embracing it.
It has become one of the most successful tools content marketers use to harvest leads and promote their businesses.
If you're looking to create and distribute compelling videos to promote your business, Promo can definitely be an amazing add-on to your content marketing toolkit.
From an easy onboarding process to a gorgeous and intuitive user interface, Promo is perfect for creating promotional videos for your business and its user experience is top-notch.
No experience in video editing? You may be surprised to learn that the platform is capable of producing engaging videos without requiring any advanced video editing skills. Everything is easily customizable in just a few clicks.
You don't even have to go waste your time looking for video clips elsewhere thanks to their catalog which has millions of well-curated video clips, music, and images.
So, whether you just want to create a few videos for your small business or professional videos for your real estate company, Promo has got you covered!
Platform supported: Web | Plans: 14-Day Trial then Paid
Content promotion is a huge but very important aspect for content marketers.
To be successful with content marketing, you must have an end goal and that is usually, to drive targeted traffic to your site and convert them into customers.
BuzzStream is a great tool that can assist in this process by allowing you to manage your content promotion efforts via social media, blogs, and other platforms with one single tool.
It's quick and easy to use so it should be in every marketer's bag of tricks.
Buzzstream will let you conduct outreach tasks and start building those relationships that can help move the needle!
Platform supported: Web | Plans: Paid
Ahrefs is much more than a content marketing tool. I personally see it as my most preferred weapon of all my marketing tools because I use it to build the very foundation of my whole content strategy.
Conducting keyword research or analyzing your competitors' backlink profiles might be nearly impossible without an SEO tool like Ahrefs.
Finding out what content is working and what isn't based on the keywords you are targeting is a must.
This is why having a search engine optimization tool like Ahrefs that shows you where your competitors rank for specific keywords can help you plan a solid content marketing strategy for your business.
It'll cut down on time spent doing research by allowing you to discover trending topics without having to spend hours researching keywords in the search engines without knowing if you have a chance at ranking these keywords.
I don't know any SEO person or agency that doesn't use Ahrefs or one of its competitors.
If you're having issues with your site and don't have the budget to hire a technical SEO person, Ahrefs has got you covered.
Ahrefs will perform a website audit by crawling your site to find errors that might be altering your performance on Google.
There's so much to talk about Ahrefs and how it can really help you achieve higher rankings on Google.
But Ahrefs is by far one of the best content marketing tools you'll get addicted to!
Platform supported: Web, Android, iPhone & iPad | Plans: Free
Some people are not comfortable writing directly in WordPress because of the block feature.
If you're one of them, you can start your content writing in a free content marketing tool like Google Docs.
It's a very simple tool but has tons of features that will ease the process such as sharing the doc with your editor or colleague, adding comments, and even tracking your progress as you write.
Often the very best content marketing tools are free. So, feel free to try Google Docs as your starting point.
Platform supported: Web, Android, iPhone & iPad | Plans: 14-Day Trial then Paid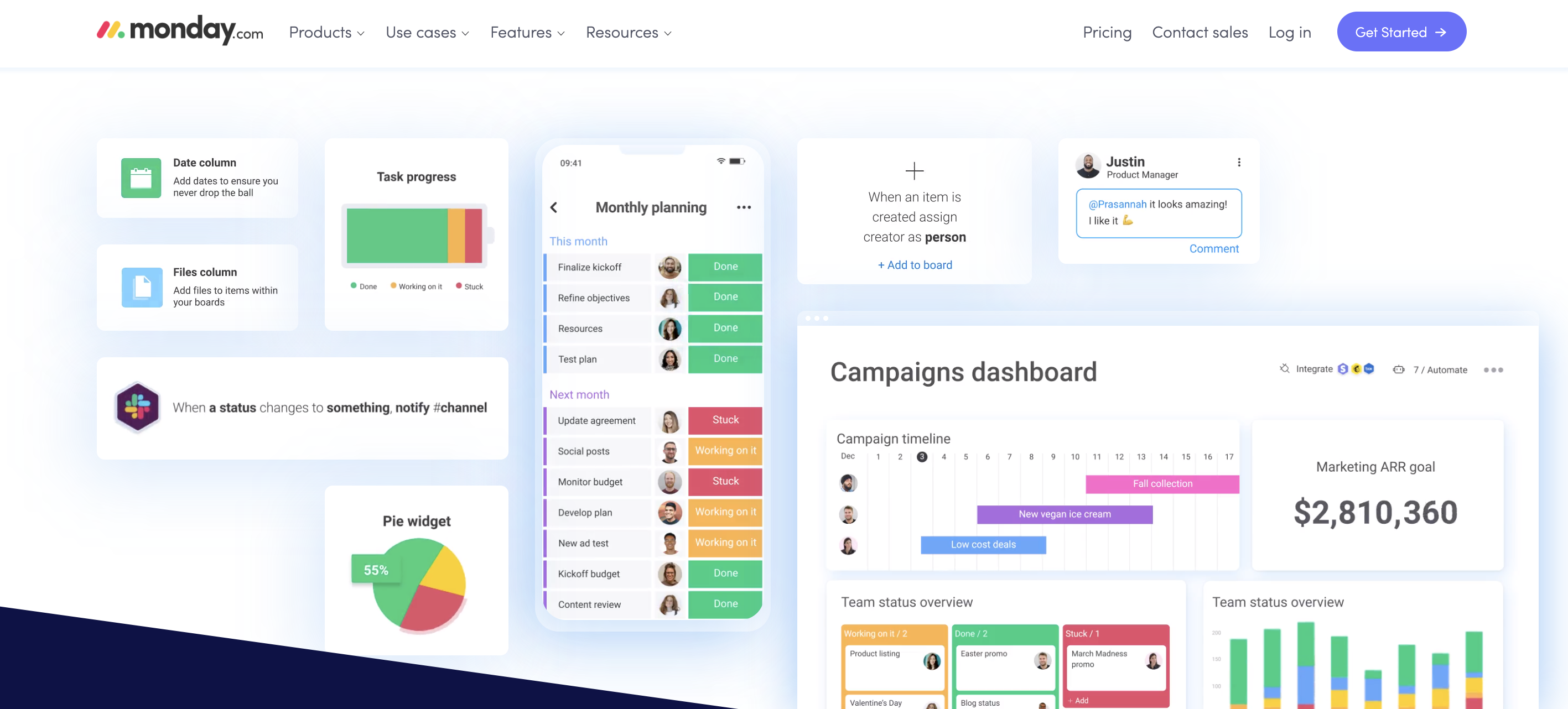 Monday is definitely one of the most essential content marketing tools every marketer should have.
If you're looking for a robust project management software for organizing and monitoring your content marketing business, Monday has proven itself to be one of the best.
It's a tool that you'll use to plan your content marketing calendar and track their progress.
Teams can design their workflows without having to worry about coding and can use the platform to adapt quickly to changing needs.
It also liberates teams from manual grunt work and connects them in a professional yet fun collaborative workspace.
Related Post: Trello vs Monday – Who Wins The Battle in 2022?
Platform supported: Web, Android, iPhone & iPad | Plans: 14-Day Trial then Paid
Buffer is an intuitive and smooth social media management tool that allows you to schedule social media posts and also gain insight into the most-shared content across major channels.
What Buffer does differently from its competitors is that it not only focuses on scheduling your social media posts, but it also tracks how many clicks and retweets your content is getting.
With Buffer's analytics, you can learn which of your social media posts are performing best, who's sharing them, and what the most engaging times are for the days you're posting.
It makes managing social media so much easier with its built-in analytics reporting, making it one of the best content marketing tools worth investing in.
A social media scheduling app like Buffer is another content marketing tool you need to have if you wish to dominate social media platforms.
This tool will help you manage your content from start to finish, giving you a bird's eye view of the entire process.
You can keep track of all your content created, the changes that have been made, link all the people involved in the process, and even set deadlines for each task needed to be accomplished.
Buffer is by far one of the best when it comes to post scheduling, automated publishing, collaboration, and calendar management.
Best Alternatives (Click To Learn More)
Platform supported: Mac, Windows, iPad, Online | Plans: 7-Day Trial then Paid
In order for you to create visually engaging content, you need to be able to edit photos or images.
If you want a graphic design software that won't tax your budget, you should try out Adobe Photoshop.
This is a pretty cheap photo editing software that will allow you to create and optimize images, create infographics, featured images for your articles, and thumbnails for your videos, like a professional version.
Photoshop might not be easy at first, but it has an intuitive interface and in-app learning panels for each tool and feature. It's like having a teacher over your shoulder.
This will help your content become even more engaging and professional.
Adobe Photoshop is the industry standard when it comes to photo editing and graphic creation.
It's easy to use once you get the hang of it and has many quality tools that will help you create visually compelling content.
Adobe Photoshop makes it easy to even collaborate with your team in real-time.
So, it might be a great solution for you if you're in search of a high-quality photo editing software, but don't want to spend too much on it.
Platform supported: Web, Android, iPhone & iPad | Plans: Freemium
Don't have the budget to hire a proofreader? No worries! Not all content marketers have the means to hire someone for that purpose.
Grammarly is your best option and it can be used with WordPress, Google Docs, and many more apps.
No app installation is required. Just sign up and install the Chrome extension on your toolbar and you're good to go.
This is a very helpful tool for proofreading any content you might be working on, whether it's an email, proposal, article, or anything else.
Grammarly's AI technology and natural language processing help users produce high-quality content and improve readability in real-time.
You don't have to pay anymore to check your spelling or punctuation errors. Grammarly will do it for you.
You just have to click on Grammarly's suggestions to correct your errors and provide your readers with epic and well-written content.
Another much-needed feature you will need as a content creator will be a plagiarism checker. Grammarly also does that!
So, it's a must-have tool anyway.
Platform supported: Web | Plans: Free & Paid
Wouldn't it be great if you could know where are your visitors spending their time on your website? That would be an added perk, right?
Well, Hotjar is also one of the best content marketing tools and it actually goes beyond traditional web analytics and helps you understand what your readers are doing on your site.
If you want to know how your readers behave in your articles, then you need Hotjar. You might ask "how is this an amazing tool?"
Well, Hotjar will show some hot spots in your articles and you can use this information for further article optimization.
For instance, if you see that a certain area of your article is much more viewed, you swap your affiliate links to this area so as to give them better exposure.
Platform supported: Web | Plans: Free
Another much loved tool by content marketers besides Google Analytics is Google Search Console
Did you know Google has its own SEO tools? If you don't, then by now you've learned a few things that's why we're going to share them with you.
Google Search Console is one of the free content marketing tools that will give you the most accurate data compared to other SEO tools.
Why? Simply because the best data comes from Google itself.
This tool allows you to see what keywords you're ranking for and their position fluctuations.
Also, if you don't have the budget to buy an expensive SEO tool for keyword research, Google Seach Console itself will help you optimize your content for the better.
Best Alternatives (Click To Learn More)
Platform supported: Web | Plans: Free
A couple of years ago, Google has decided that the speed at which a page loads would now feature among the 200+ ranking factors.
Since the majority of searches happen on mobile, Google has to provide the best user experience to its users.
That's why it's fundamental to optimize your site to load as fast as possible.
And one of the best tools to suggest the best fixes is no other than Pagespeed Insights from Google itself. The tool can be accessed via a subscription, but if you're looking for something free for the time being, you can use the Firefox plugin that's available for download.
Google Page Speed Insights is a great tool in this list of content marketing tools to have in your arsenal if you're looking to make your site faster.
It's not just about loading speed, though. There are many other elements that it takes into consideration when deciding if a page is fast enough or not, such as how quickly the page renders and how much data it needs to load.
Best Alternatives (Click To Learn More)
15. Social Media
As much as I hate social media, I cannot deny its importance in content marketing. These days, social media is the way to go.
You need to make yourself visible and available for your readers and potential customer.
Social media has become a way of life, and as a content marketer, you need to think about how you can use it to your advantage.
It is impossible for you not to want social media in your content marketing strategy if you are looking to expand your reach and drive more potential customers down into your sales funnel.
These platforms are crowded with millions of active users every day. So, would you afford to miss out on all of them?
As powerful as social media networks can be, your success can also be niche dependent.
For instance, Pinterest is known to be a female dominant platform, you might have a hard time becoming a billionaire if you sell stuff for men.
It's not impossible but very hard! With that said, it's important that you know beforehand on which social media platforms your audience hangs out.
It will be a waste of your time to create content on a social media platform that won't give you a minimal return.
Instasize is one of the best content marketing tools when it comes to photo editing for social media.
It's an all-in-one tool with professional features that can be used to create aesthetically-pleasing content for social media. These features include:
Instasize has over 130 photo filters to turn your raw photos into attractive posts ready to be shared on your Instagram, Facebook, and other social media accounts.
Instasize's editing features let you add decorative text to your photos to give them a professional look. You can also crop your photos and add custom borders easily.
Another cool feature is the background removal tool, which can extract the subject from a photo and change the background to any color or image that you like.
Their photo resizer is a great feature if you use different social platforms for your content marketing purposes.
It's also very easy to use in terms of making a collage, then adding a text box with a font of your liking.
For only $4.99 per month, you can get a complete photo editing tool for all your social media content in one place.
Platform supported: Web, Android, iPhone & iPad | Plans: Free & Paid
What if you could schedule months of content in advance with just one tool? Well, Tailwind is the answer to that.
Tailwind is a scheduling and analytics software for marketers who are looking to get more out of their Pinterest or Instagram content strategy.
Tailwind is relatively easy to use, has a great user interface, and it can help you grow your Pinterest or Instagram accounts.
You can also schedule pins in advance, track your account performance over time, and analyze which types of posts perform the best for you.
With Tailwind, you can plan your content for Instagram and Pinterest and fill up your calendar in advance and save a whole lot of time.
Final Thoughts
Getting to the top of your content marketing game also means equipping yourself with the best content marketing tools.
This doesn't mean you need to go and blindly purchase all these software! You need to know what are the needs and demands of your content marketing strategy and then buy accordingly.
I hope this article will help you choose a few marketing tools to start or grow your content marketing business.