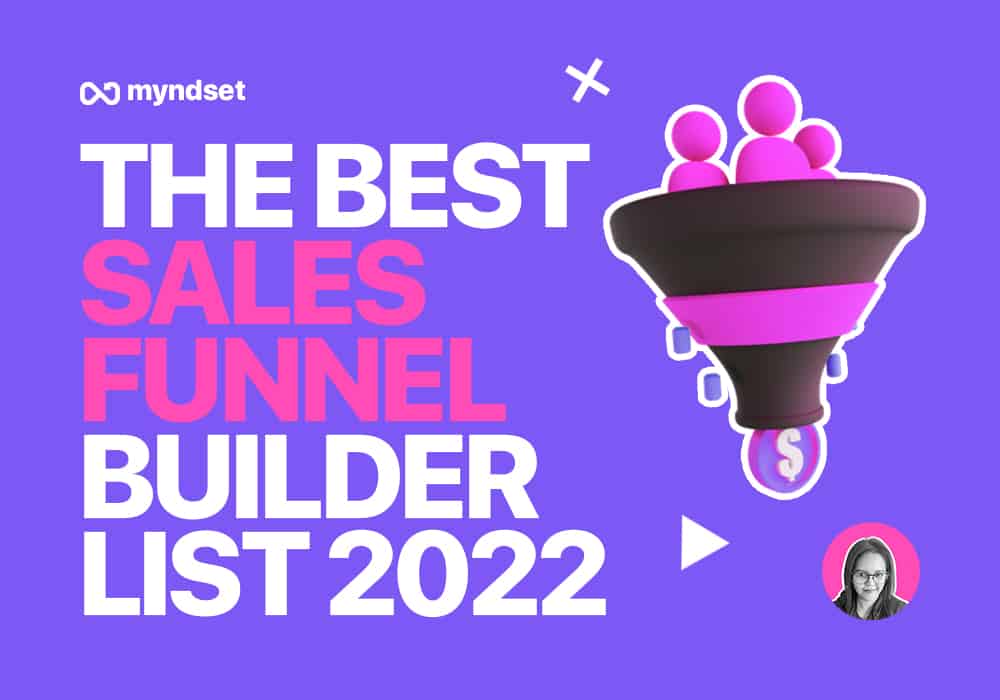 Choosing the best sales funnel builder for your business isn't always an easy task. You want something that will help you generate leads, collect email addresses, and engage with potential customers while also generating convincing sales messages.
And of course, the best sales funnel builder should be easy to use so you don't have to spend hours trying to figure out even the most basic functions of the software. That's why I've put together this list.
I want to help you understand some of the most important features to look for in a sales funnel builder, so you can get started using one of these products that will help your business grow and thrive.
With so many different options on the market today, it's easy to get caught up in the shiny details and lose sight of what matters most to your business.
Some of the most useful features for sales funnel builders include:
You should also look for features like templates, drag and drop designs, and a variety of other visual options to help you save time during the build-up process.
What is the Best Sales Funnel Builder?
When I take a look at the top 10-20 sales funnel builders for 2022, there are clear winners.
Some of them not only, have such great features and user-friendly interfaces but they have been tested by thousands and thousands of well-known entrepreneurs and companies (myself included).
These are the products I recommend for creating and managing sales funnels, not only for this year but for many years to come. Let's take a look at what I found to be the best of the best.
Platform: Web | Support: Email/Help Desk, FAQs/Forum, Phone Support, 24/7 (Live Rep) & Chat | Training: Webinars, Documentation, & Videos
Clickfunnels has been crowned the King of Funnels by just about everyone who's reviewed it.
It doesn't matter whether you're a seasoned marketer or just getting started with your business. Clickfunnels offers the most all-inclusive features that you're going to find anywhere.
While it's true that Clickfunnels is the Master when it comes to sales funnel, it also offers a full suite of other marketing tools that enable you to streamline your marketing processes.
With Clickfunnels, you can put together a sales funnel in just three to four steps and start capturing leads right away.
Even if you want to run your own webinar or video training series, you'll be happy to know that Clickfunnels integrates with major webinar platforms like Zoom, GoToWebinar, WebinarJam, and many others.
From landing page or website building and lead generation to marketing automation, Clickfunnels has it all.
It doesn't matter what kind of business you have or what your marketing goals are, Clickfunnels is one of the most comprehensive sales funnel builders on the market, period!
Clickfunnels Key Features
Campaign Analytics
Campaign Management
Contact Database
CRM
Customizable Templates
Drag & Drop
Drip Campaigns
Form Builder
Clickfunnels Benefits
Spend less time building funnels by using their tested and high-converting and customizable funnel, forms, and landing pages templates
Grow your email list with pop-ups options on your website (ClickPops)
Increase your revenue by offering one-click upsells
Track email metrics such as open rate
Unlimited contacts and membership members
Clickfunnels integrates with the major platforms you will need to conduct your e-Commerce activities
Cons of Clickfunnels
Clickfunnels Pricing
Basic Plan $97/mo: best for newbies or startups
Platinum Plan $297/mo: best for business owners and agencies that want to maximize their profits.
*** You can save 20% on annual subscription.
Bottom Line
If you're looking for a lead generation software or a simple conversion-focused funnel builder, you can't go wrong with Clickfunnels.
With its drag and drop feature, you can create a high-converting sales funnel in a few minutes.
Maybe there are some features that you won't need, but it's on you to make sure you're getting the right plan for your needs.
Platform: Web | Support: Email/Help Desk, FAQs/Forum, Phone Support, 24/7 (Live Rep) & Chat | Training: Live Online, Webinars, Documentation, & Videos
GetResponse is a powerful marketing automation software and it can definitely help you in various areas of your online business, such as lead generation, landing page building, email marketing automation, and more.
In fact, GetResponse is an established player in the marketing automation field, and in a nutshell, it offers a wide range of features that can boost your ROI.
So whether you have an eCommerce business model, affiliate marketing scheme, or any other model that requires you to do some marketing, GetResponse can play a huge role in boosting your sales and income.
GetResponse Key Features
AB Testing
Lead Management
List Management
Multi-Channel Marketing
Email Distribution
Email Management
Email Tracking
Form Builder
Reporting/Analytics
Subscriber Management
Survey Builder
WYSIWYG Editor
Real-Time Editing
GetResponse Benefits
Quick and easy onboarding process
Integrates with other popular sales tools
Set up your drip campaigns in a few clicks
Comes with a WYSIWYG editor to save you time
Helps you qualify, nurture and convert your leads
Cons of GetResponse
GetResponse Pricing
Marketing Automation Plan $59/mo: best for freelancers, small businesses
Ecommerce Marketing Plan $119/mo: best for large enterprises, established small businesses
***Save 18% on the 12-month billing and 30% on the 24-month billing.
Bottom Line
GetResponse is a full-featured marketing automation software that enables you to set up and run drip marketing campaigns with little effort.
The software integrates with a bunch of email marketing tools that can boost your sales and conversions.
The software also offers an e-commerce tool that can help you sell your products easier and faster than other similar tools.
Platform: Web | Support: Email/Help Desk, FAQs/Forum, Knowledge Base & Chat | Training: Live Online, Documentation, & Videos
ConvertFlow is a powerful lead-generation tool that can help you generate leads for your e-commerce website. This tool even helps you convert your visitors into customers.
The good thing about ConvertFlow is that you get everything in one place, from building landing pages to email marketing automation (and more).
With its high-converting landing page templates, pop-up opt-in boxes, and other marketing automation features, ConvertFlow can definitely give you a helping hand in increasing your conversions and growing your business altogether.
ConvertFlow Key Features
Landing Page Builder
Landing Page Templates
Form Fields
Landing page actions
Skip logic
Event-Triggered Actions
3rd Party Integrations
Contact Profiles
Progressive profiling
CTA funnels
Reporting
Streamline Workflow
Additional Features:
ConvertFlow Benefits
You can have all your sales tools under one roof
High-converting and catchy templates
Integrates with all major e-commerce platforms
Offers a variety of powerful tools to grow your customer database
Cons of ConvertFlow
I've used ConvertFlow for almost a year and each issue I had was addressed in their future updates.
ConvertFlow Pricing
Free Plan: best for testing
Pro Plan $99/mo: best for small brands
Teams Plan $300/mo: best for teams and medium-sized businesses
Business Plan $800/mo: best for enterprises looking to maximize their growth
***Save 16% and get 2 months free on annual billing.
Bottom Line
Without a doubt, ConvertFlow has proven to be a solid lead generation tool alongside a bunch of other features that can help you increase your revenue.
If you're looking for a marketing automation tool that can help you with your landing pages, conversion rates, and sales funnel, ConvertFlow is an awesome option.
Platform: Web | Support: Email/Help Desk, Phone, Knowledge Base & Chat | Training: Live Webinars & Documentation.
ConvertKit is a fully-featured marketing automation platform that can help you build sales funnels, landing pages, and email marketing campaigns.
With ConvertKit, you can set up your opt-in pages, autoresponders, popup forms, and more in a few minutes.
ConvertKit Key Features
Landing Page Builder
Landing Page Templates
Auto-Responders
CAN-SPAM Compliance
Customizable CTAs
Dynamic Content
List Management
Mobile Optimized Emails
Reporting/Analytics
Segmentation
WYSIWYG Editor
Drip Campaigns
ConvertKit Benefits
Send highly personalized emails to your subscribers and nurture them
Monitor your subscription rate, open rate, customer engagement, and more.
Attach your product to any landing page or form and start earning right away
Import your email list for free from your previous email marketing software at no extra cost
Cons of ConvertKit
ConvertKit Pricing
Free Plan – best for individuals
Creator: $15/mo: best for freelancers
Creator Pro $29/mo: best for small businesses
***Sae up to 40% and get 2 months free on the annual billing.
Bottom Line
Although ConvertKit doesn't boast tons of features like the other tools, it's a pretty solid marketing automation tool.
If you're on a tight budget but are looking for a great marketing automation platform, ConvertKit is worth a try.
Platform: Web | Support: Email/Help Desk, FAQs/Forum, Phone Support, Knowledge Base & Chat | Training: Live Online, Documentation, Webinars & Videos
Are you a fitness coach looking to build a high-ticket coaching funnel? A nutrition expert wanting to launch a meal plan? An established blogger looking to grow your email list?
Kajabi is probably one of the best tools to turn your passion or knowledge into a revenue machine.
Kajabi has an array of ready-made sales funnel templates that you can customize in just a few clicks.
Whether you want to offer a freebie, launch a product, set up a high-converting sales funnel, or even launch a zoom webinar to promote your high-ticket product, Kajabi has got you covered.
With Kajabi, you can easily integrate all your business tools and therefore operate your whole business in one place.
What I love about Kajabi is that although they have a myriad of features, each of these features is a robust system in itself. Not just a "one more feature" that is light and buggy or does the job halfway.
Kajabi Key Features
Drag & Drop
Drip Campaigns
Landing Pages/Web Forms
Pipeline Management
Video Support
Image Library
eCom Management
Customizable Templates
Website Management
Kajabi Benefits
It helps you build and grow your business without using a dozen of different and complex tools.
Saves you time with their pre-built frameworks and templates.
It is easy to use and you can use it on any device.
It will give you all the tools you need to make your business stand out from the crowd.
Easy setup and takedown of campaigns.
The interface is very intuitive and has in-app learning instructions.
Cons of Kajabi
Kajabi Pricing
Kajabi is not for you if your business is not generating an income yet. However, as the team at Kajabi says "It's Premium, But Not Pricey".
If you take into consideration the number of fully-fledged features you get, then the price is really worth it.
Basic Plan $149: best for starters with few products
Growth Plan $199/mo: best for small businesses or established freelancers/solopreneurs
Pro Plan: $399/mo: best for large enterprises or profitable small businesses
***Save 20% with annual billing
Bottom Line
Kajabi is a premium tool that is not priced like one. They are very transparent in the features they have and if you're looking for a solid and thorough marketing automation tool, Kajabi might be a great option.
Wrap Up
If you're a business owner looking to convert potential customers into buyers, there's no doubt about it: you need to take them through a sales funnel.
Look no further than this best sales funnel builder list for 2022.
If you're just getting started with your business, it's probably not a great idea to spend your time building an entire website from scratch just so you can start collecting leads.
Instead, look for a sales funnel builder that will allow you to do so and save time so you can focus on other areas of your business.